A good time for bad news; big spenders tightening their belts; and capital allocation choices looming. Please enjoy our auto industry and mobility briefing for 27th April to 3rd May 2020. A PDF version can be found here.
Before you read the detail, what were my favourite stories of the past week…?
Wrecking Ball — Volvo is slashing salaried staff. Although the company suggests that the cuts were planned, and maybe they were, it reinforces the impression that the coronavirus hiatus (albeit minimised in Sweden) affords the opportunity to make big moves with less downside than might usually be seen. Which other manufacturers will be telling people they don't need to bother returning to work?
We Can't Stop — After Hertz announced a round of layoffs last week, Enterprise, Lyft and (probably) Uber are doing the same. If the companies that, directly or otherwise, drive lots of new car sales are shedding staff, and therefore capacity, what makes manufacturers expect a quick rebound in demand?
The Climb — The head of VW's Traton truck unit thinks investments in self-driving will be the first to be thrown overboard as companies clamp down on spending. It makes sense in a way: the pay-off is probably further away than other deserving projects. But there could be a big flaw, and it's the same one that started the splurge in the first place; if Google (Waymo) can afford to keep spending, those without a serious skin in the game risk being left behind. Does everyone know enough to decide how to trim spending?
News is arranged by company and topic. Stories that apply to more than one company or topic are duplicated.
Find our archive here.
SIGN UP TO GET THE WEEKLY BRIEFING EMAILED TO YOU
Chart of the week
A (unsurprisingly) common theme in discussions we've had recently is what consumer reaction we can expect to relaxation of quarantine measures. This particular talking point has been getting good traction so I thought we would share a little insight: Sales in the UK are highly seasonal — reliably higher or lower than other months — driven by the two number plate changes in March and September (where the different number on the plate highlights that the car is brand new).
The chart below shows the recent trend of sales in June and July versus the combined January and February sales in the same year. Not an exact science, but it does provide some idea of a "normal" range when service resumes. If you do the rest of the maths it suggests a June figure in the range 210,000 – 240,000 and July registrations of 145,000 – 175,000 would be consistent with industry recovery. Our key belief is that future state scenarios need to be supplemented by early indicators to enable fine tuning of plans.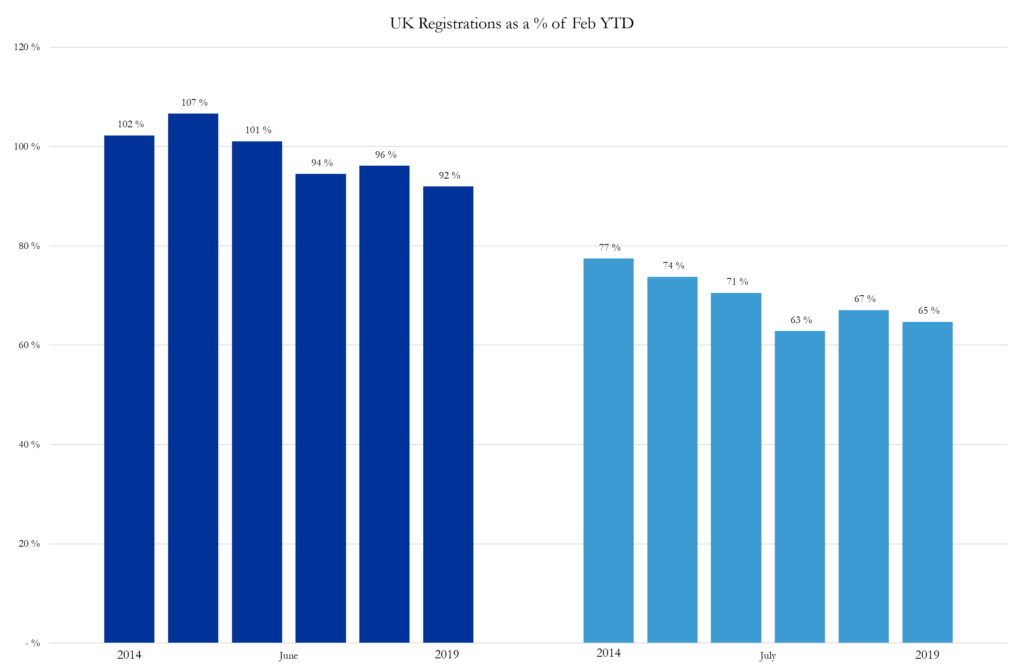 News about the major automakers
Although most of BMW's workforce buzzed off once coronavirus set in, the bees at Rolls-Royce remained hard at work and managers say they are set for bumper volumes. No word yet on whether Bentley's hives at Crewe have been similarly unaffected. (Rolls-Royce)
Reported Q1 2020 revenue of €37.2 billion, down (6)% on a year-over-year basis. EBIT of €617 million fell (78)% from prior year. The 2020 full year outlook amounted to not much more than an expectation to burn cash. (Daimler)
Geely (includes Volvo) (history)
Sacking 1,300 non-manufacturing staff in Sweden as part of Volvo's cost-cutting drive. The firm says that the move is in line with existing plans but coronavirus increased the "pertinence" of the steps. (Volvo)
Kandi Technologies reported full year 2019 revenue of $136 million and operating income of $0.9 million. (Kandi)
Says that the (limited hands-off driving assistance system) SuperCruise-enabled fleet logs around 70,000 miles per week. (Detroit Free Press)
Produced 950,393 cars in Q1 2020, down (29)% versus the same period in 2019. (Honda)
Invested in glass technology developer Gauzy. (i24)
Mazda
Sold 313,116 cars in Q1 2020, down (20)% year-over-year. (Mazda)
Nissan and Mitsubishi (history)
Nissan issued a profit warning saying its fiscal full year net loss could be $885 million and that it was delaying financial reporting until late May, at which time it will also announce a recovery plan. (Nissan)
Connected vehicle data company Otonomo raised $46 million from investors including the Renault-Nissan-Mitsubishi VC unit. (Otonomo)
Renault reportedly hopes that thinning the heard of contracted engineering services will save €100 million to €200 million per year with a mooted cut from around 15 major suppliers to four or five on the cards. (Reuters)
Connected vehicle data company Otonomo raised $46 million from investors including the Renault-Nissan-Mitsubishi VC unit. (Otonomo)
The EU cleared a plan for France to give Renault a €5 billion loan guarantee. (Reuters)
Subaru
Global production of 270,535 cars rose 19.2% on a year-over-year basis. (Subaru)
Suzuki
Sold 691,801 units in Q1 2020 (including Maruti-Suzuki in India), (18)% down on 2019. (Suzuki)
Sold 1.7 million vehicles in Q1 2020 (including the Daihatsu and Hino brands), down (12.4)% versus 2019. (Toyota)
Restructuring the Chinese joint venture with FAW to simplify reporting relationships. (Toyota)
Announced a series of management changes, primarily reflecting the hand over of the electronics components business to Denso. (Toyota)
Other
Nio announced a plan to sell 24% of its Chinese business to an assortment of regional government investment vehicles in return for a cash injection of 7 billion RMB (almost $1 billion). (Nio)
Kenon sold 12% of Qoros (it kept the same amount) to Baoneng (which now holds 63%). (Kenon)
News about other companies and trends
Suppliers
Dealers
A UK survey of potential car buyers found that although 82% were still planning to go ahead with a deal, 76% do not want to go to a dealership in person but only 7% were happy with buying online. (Motor Trader)
Auto Service Finance, a white label provider of loans for car servicing raised £14 million. (FINSMES)
Ride-Hailing, Car Sharing & Rental (history)
Driverless / Autonomy (history)
Charging network Amply Power raised $13 million. (TechCrunch)
Battery developer ZAF Energy Systems raised $22 million. (FINSMES)
Connectivity
Connected services company Automatic, makers of a cheap dongle containing a modem that plugged into a car's OBDII port and transferred location and other data to the cloud, said it was closing. (Automatic)

Significance: Since the company's offering was pretty cheap, yet capable, Automatic's failure calls into question OEM hopes of monetising similar services, implying that margins are unsustainably thin. Equally, if companies really believe in the value of data then Automatic's husk could provide rich pickings at a cheap price.

Connected vehicle data company Otonomo raised $46 million from investors including the Renault-Nissan-Mitsubishi VC unit. (Otonomo)
Other
Road quality monitoring service Nexar raised $52 million. (Fortune)
SIGN UP TO GET THE WEEKLY BRIEFING EMAILED TO YOU
Find our archive here.