AUTOMOTIVE RESEARCH BY AD PUNCTUM
With a background in the strategy, finance and manufacturing teams of a major European carmaker (original equipment manufacturer -- OEM), you can expect Ad Punctum's research to be well-informed, detailed and based on extensive experience of how the modern automotive industry actually works and what the key trends are.
This section provides access to materials that we have published to be available free of charge (with proper attribution). It provides an idea of our written style and shows the breadth of topics that we've covered in recent work that we have performed. It covers three main topics: The core business of carmakers today (making and selling cars), the industry mega-trend of on-demand mobility and we've included some materials around the impact of Brexit. The focus of our published materials is the European industry.
If you'd like to know more on any of these topics, or discuss a completely different subject entirely, then please email us at info@adpunctum.co.uk or call on +44 (0) 203 858 0760.
If you want to know more about our tracking of news across the OEMs and emerging trends (including our weekly briefing summarising auto industry news and trends from the prior seven days by company) then please click here.

ON-DEMAND (SMART) MOBILITY
The latest automotive industry mega-trend, on-demand mobility (smart mobility to some) is a new take on an age-old service. Although taking a taxi is nothing new -- licensed carriages in London have existed for centuries -- the idea that the service could be so cheap that it is accessible to all is.
On-demand doves dream of a day when private ownership of vehicles is considered wasteful and vain -- you'll simply have a car arrive at your doorstep and after you finish your journey it will go somewhere else. You'll only pay for what you use and it will far cheaper than car ownership today. Ride-hailing services such as Uber or Didi and car sharing businesses such as Zipcar are just the start. The real action starts when technology allows the car to do away with its human driver.
What can we offer? We see on-demand mobility as a very interesting trend, one with the potential to change major elements of the way that the automotive business runs. We also think the science fiction part of forecasting what the technology could become is the easy bit, just watch Total Recall (the 1990 version) or I, Robot (2004) to get a glimpse of what driverless transport might look like. Where we can add value is through insight into the business realities of on-demand mobility. Questions such as: How much will the technology cost? How quickly will it be available? What are the potential business models? Where does the skillset of carmakers match the emerging business? What is the customer demand? What will regulators be looking for?
If you would like to have a discussion and know more about our perspective, then please email us at info@adpunctum.co.uk or call on +44 (0) 203 858 0760.

BREXIT (THE UK LEAVING THE EU)
With a focus on the European industry, it would be remiss not to talk about the impact of the UK leaving the European Union (Brexit) on the car industry. Some of the economic impact has already been felt and there is the potential for extensive further complexity and cost in the event that the UK government and the EU fail to agree the comprehensive Free Trade Agreement that the UK government desires.
As one of the top three markets for car sales in the European Union, accounting for almost 20% of EU volume, stability in the UK market is a priority for almost all manufacturers. Our research covers the potential outcomes, resulting impacts on the automotive business, contingency plan options and timing. If you would like to know more about this topic then please email us at info@adpunctum.co.uk or call on +44 (0) 203 858 0760.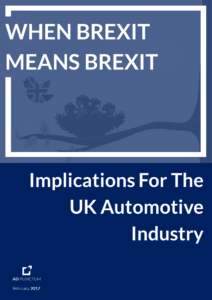 An in-depth report into possible Brexit outcomes, we look at:
The key potential impacts of Brexit for the automotive sector
Current market position of the major OEMs
How each OEM would be impacted by each of the different factors
Don't fancy the full-fat report? Read an abridged version here.
Note: The analysis relies on 2015 and 2016 data. Whilst not the latest available information, the conclusions of the report remain the same.

AUTOMOTIVE DATA CENTRE
As a result of our research we produce substantial amounts of data, including detailed financial analysis history. sales and production volumes, manufacturing capacities and company headcount and site-by-site information. In particular, we believe that our detailed financial analysis and detailed company capacity and headcount data offer insights that are difficult to come by elsewhere.
Example: PSA Automotive Headcount by Site
Please email us at info@adpunctum.co.uk or call on +44 (0) 203 858 0760 to compare notes and see what we have to offer.