Aston Martin's independence; the difference between electric winners and losers; and secret emissions trading is a thing. Please enjoy our auto industry and mobility briefing for 27th January to 2nd February 2020. A PDF version can be found here.
Before you read the detail, what were my favourite stories of the past week…?
News is arranged by company and topic. Stories that apply to more than one company or topic are duplicated.
Find our archive here.
SIGN UP TO GET THE WEEKLY BRIEFING EMAILED TO YOU
Chart Of The Week
Last week's chart got some interest, so I thought I would try another. If you read a lot of the pro-electric vehicle websites (as I do) then you will be familiar with articles like this one that trumpet the sales performance of Tesla cars compared to the conventionally powered competition in any given month. I went and looked at some German data and found something rather strange.
Now, I'm not suggesting this is anything other than coincidence but there seems to be a pattern where Tesla's market share (of the relevant segment for each of Model 3 / S / X) jumps in the final month of the quarter. Remember this is share, not volume, so seasonality shouldn't be much of a factor. Here's the chart: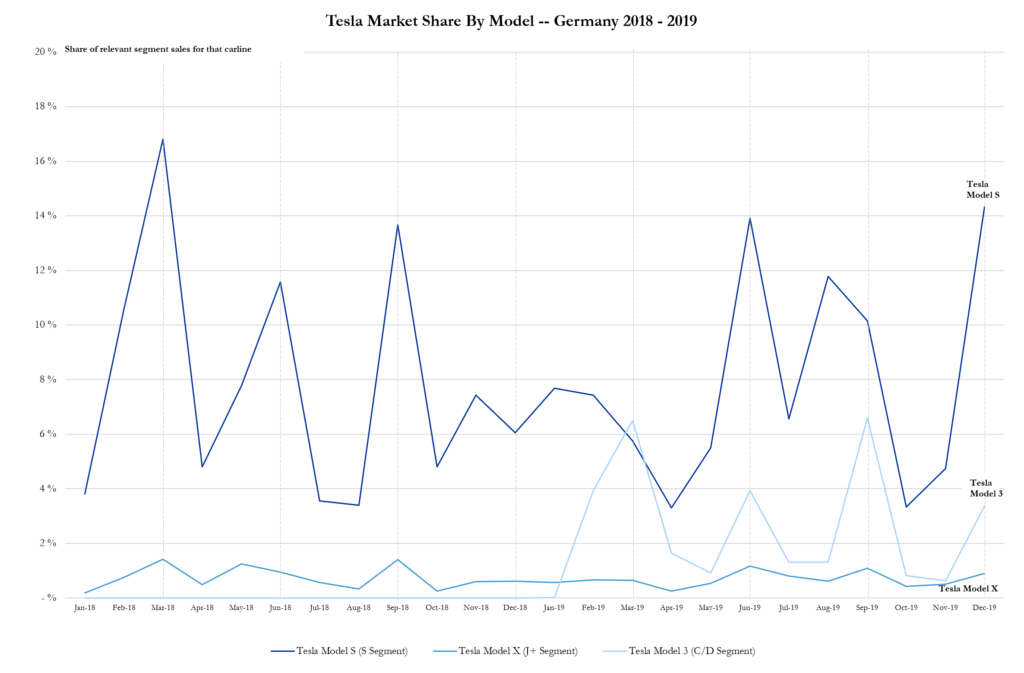 News about the major automakers
Delayed the next-generation Mini, partly to save money by extending the current car's lifespan, and partly in the hope that it will know the final outcome of a UK-EU trade deal before it has to decide the production footprint. (Reuters)
Not interested in making BMW-badged products in the same segment as Mini, preferring to have distinct brands that do not compete with one another. (Autocar)
Trialling the use of blockchain technology provided by Circulor to track CO2 emissions in the supply chain. (Autocar)
Recruited sellside analyst Max Warburton as head of special projects, reporting to the CEO. (Daimler)
Launched the next generation infotainment system called Uconnect 5. FCA reckons it is more user friendly than competitor products and well futureproofed. (FCA) TomTom will be the mapping supplier. (TomTom)
Announced a further period of idling at the Belvedere, USA, plant. (Bloomberg)
Confirmed that a forthcoming Lincoln battery electric vehicle will be built off Rivian's platform. (Ford)
Experimenting with 3D-printed locking wheel nuts that are unique for each vehicle. (Ford)
Completed the sale of its former UK administrative HQ for £40 million. (EssexLive)
Geely (includes Volvo) (history)
Taxi maker LEVC is open to joining a pool that could benefit from its low CO2 per vehicle. It has issued a request for an open pool via the EU's system. Presumably inviting partners in return for financial reward. (EU)

Significance: The open pool declaration implies that Volvo is on track meet EU fleet average CO2 levels
GM's president doesn't think there is an inflection point for EV adoption believing that they have already entered the mainstream and that the rate of take-up is now in the hands of customers. In echoing previous statements that the next generation of all-electric cars would be profitable, scale was highlighted as a major factor in the business case. He also said that battery packs didn't need to increase in size from the current generation, but GM will be able to squeeze out more performance thanks to a better understanding of how the battery is used in the real world. (Electrek)
Confirmed rumours that Hummer will be resurrected as an all-electric model. The vehicle won't be revealed until May and GM didn't elaborate on the bodystyle (expected to be an SUV and a pick-up variant). The new Hummer won't be a standalone brand however, it will be a model within the GMC portfolio. The new truck boasts an impressive specification: 1,000 hp and 0-60 in 3 seconds. (GM)
Cadillac will roll out a new driver assistance system, called enhanced super cruise, that will enable hands-off highway driving, including lane changes. (GM)
Honda produced 5.17 million vehicles in 2019, down (3.5)% on the prior year. (Honda)
Nissan and Mitsubishi (history)
PSA and Total's Saft division announced a plan to create two battery plants, one in France and one at Opel's Kaiserslautern site in Germany. The €5 billion investment (€1.3 billion coming from public funds) will lead to a combined 48 GWh of capacity by 2030, good for one million vehicles per year by their maths. Over time PSA's share in the JV will go from 50% to 67%. (PSA)
To no one's surprise, Renault confirmed former SEAT executive Luca de Meo as CEO from July 2020. (Renault)
Nissan, Renault and Mitsubishi announced a series of measures to deepen integration. Nissan will lead engineering on models for China; Mitsubishi for Southeast Asia and Renault in Europe. Engineering of components will also be shared out, although no details were given. The three brands also plan to pool their collective fleet average CO2 in Europe, starting in 2020. (Mitsubishi)
Subaru
Produced 987,283 vehicles in 2019, (3.1)% down on prior year. (Subaru)
Tata Motors (including JLR) reported Q4 2019 (fiscal Q3) revenue of 716.8 billion INR (about $10.1 billion), down (7)% on a year-over-year basis. Volumes fell (12)% to 275,907 units. Happily, EBIT of 16.8 billion INR (about $240 million) was much improved from a prior year loss as improvements at JLR more than offset losses on Tata-branded vehicles. (Tata)
JLR reported Q4 2019 (fiscal year Q3) revenues of £6.4 billion, up 2.8% on a year-over-year basis and PBT of £318 million, from a loss in the prior year. The company credited its "Project Charge" program for delivering cost savings and said it will now enact "Project Charge +" to save even more. (JLR)
JLR CEO Ralph Speth will step down in September 2020. (JLR)
Toyota Tsusho invested in Kenyan on-demand logistics company Sendy as part of a $20 million round. (FINSMES)
The battery-making joint venture between Toyota and Panasonic will be called Prime Planet. (Toyota)
Other
News about other companies and trends
Economic / Political News
The Coronavirus caused many OEMs to suspend production (due to Chinese New Year, a shorter break was always planned). Amongst them were Tesla, Toyota, Honda, Ford, Renault and VW. Supplier FTech is relocating some production to the Philippines because its plant is in Wuhan. Hyundai and SSangyong said production in South Korea was affected because of parts shortages.
TomTom says Bangalore, India is the world's most congested city. (TomTom)
Suppliers
Ride-Hailing, Car Sharing & Rental (history)
GoJek has suspended several drivers after it discovered they were using modified versions of its app that allowed them to see more information about passengers and reject trips. (Tech In Asia)
Lyft's restructuring made the headlines, but it only affects about 90 people. (NYT)
Driverless / Autonomy (history)
Connectivity
TomTom is the mapping supplier for FCA's upgraded infotainment system. (TomTom)
Other
In a sign that large automotive companies might be losing interest in bright ideas that will change the future, the Techstars Detroit incubator is closing. (TechCrunch)
Truck maker Volvo reported 2019 full year revenue of 432 billion SEK (about $44.8 billion) and adjusted operating income of 47.9 billion SEK (about $5.0 billion). (Volvo)
Scooter rental firm Bird confirmed a deal to acquire Circ and raised a further $75 million. (TechCrunch)
SIGN UP TO GET THE WEEKLY BRIEFING EMAILED TO YOU
Find our archive here.