Making money from cyber security; customers turning their backs on clever engines and; autonomous pods have a branding problem.Please enjoy our auto industry and mobility briefing for17th February to 23rd February 2020. A PDF version can be found here.
Before you read the detail, what were my favourite stories of the past week…?
Oranges And Lemons — FCA has agreed to let Mahle's diagnostic devices access vehicle computers so that third party repairers can service their cars. The reason they can't do so already is down to FCA's cyber security protocols that unfortunately lock out unauthorised repairers, so you need special codes and portals to prove you are a goodie and someone needs to pay for all that. BMW do something similar. Is it just a happy coincidence that third parties must buy their way in (an extra revenue stream compared with those before), or will carmakers find themselves under fire from competition regulators arguing they are making life too hard for third parties?
If You're Over Me — Mazda is struggling to generate much interest in the very high tech Skyactiv-X engine. Rather than the hoped for 25% of sales, it is hovering nearer to 5%. The engine is Mazda's bet that you can persuade customers that electric powertrain is over-hyped and on a well-to-wheel basis internal combustion is the best path. But it doesn't seem to be working. Is this a sign for Mazda (and others) to bow to the inevitable and come up with powertrain strategies that are more clearly on a pathway to electrification?
Aint Nothing Going On But The Rent — JLR showed off the Project Vector concept car, saying the vehicle will be used in on-road trials during 2021. The car highlights a key problem for premium brands in an autonomous world: it may be that a bland pod is exactly what Uber et al will be calling out for; it must make sense for vehicle utilisation to be improved by using the same vehicles for local delivery. The problem is that neither of these things speak to either Jaguar or Land Rover's brand values. If local delivery is a fantastic opportunity for JLR, why not jump in now (Mercedes manage to have the three pointed star on Sprinter and S-Class)? And if it doesn't fit the brand image now, why will things be different in a few years' time?
News is arranged by company and topic. Stories that apply to more than one company or topic are duplicated.
Find our archive here.
SIGN UP TO GET THE WEEKLY BRIEFING EMAILED TO YOU
Chart of the week
Building on some of the earlier information we've shared about electric vehicle registrations in Germany, here's a piece of analysis that you might find interesting. We looked at vehicles which come with a choice of powertrains: traditional, plug-in hybrid and battery electric vehicles. Because the sample size is small, we added in cars which have a sister product with a different drivetrain (e.g. Renault Zoe and Clio or Jaguar F-Pace and I-Pace).
As you can see from the graph below, VW's vehicles are something of an outlier, with very small electric shares but those aside, all-electric shares taken upwards of 15% of sales, and in many cases above 30%. If the analysis stands up to scrutiny, these levels would almost certainly meet 2025 and 2030 CO2 targets if applied to the wider fleet. Can you argue that the all-electric share is flattered because some customers might be considering that car due to the limited competitor set when they wouldn't be interested in the conventionally powered one? Yes. You wouldn't necessarily have anything other than your own anecdotal objection to base it on, but yes. Here's the chart: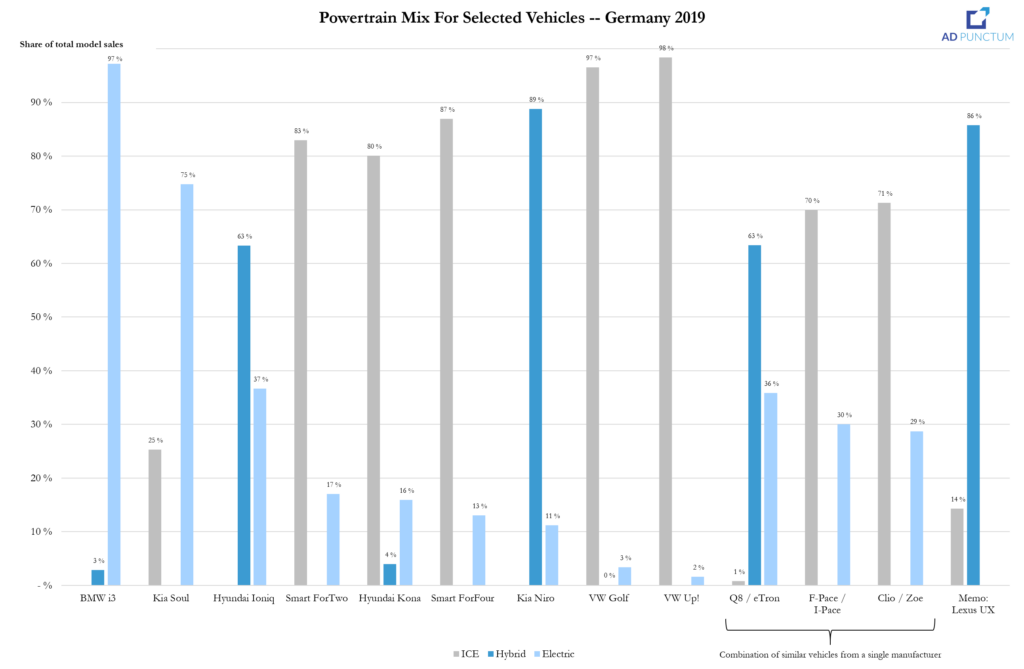 News about the major automakers
Efficiency ideas from 8,000 employees saved a claimed €62 million last year, more than half of that came from a single submission regarding the vehicle's central computer. (BMW)
Participated in a funding round for existing investment DSP Concepts, alongside Porsche. (Porsche)
Announced a series of executive moves that will see Daimler's top management take on roles in the Mercedes-Benz operational divisions and the creation of a COO position. (Daimler)
Heycar, Daimler and VW's joint venture for buying cars online acquired UK automotive consumer advice website Honest John, which boasts 25 million visitors. (Automotive Manager)
Maserati's new sports car will be called the MC20. (Detroit News)
Agreed a deal with Mahle to sell access to vehicle diagnostic systems, on a subscription basis, to workshops that use Mahle's hardware. (Auto Service World)

Significance: Following BMW's lead, FCA is monetising access to vehicle systems for third parties (who can currently read diagnostics but have no editing capability). Under the banner of cyber security, manufacturers will have multiple options to control access. However, they will have to be mindful of competition rules that force openness with third party service centres and could get into hot water if a rival broke ranks and made such services available for free.
Reportedly trimming the dealer network in the UK, historically one of Ford's largest markets. (Motor Trader)
Ford has begun installing McDonald's-esque self-service digital screens in service centres so customers can avoid talking to real humans. (Ford)
Geely (includes Volvo) (history)
Dealers reported that GM would offer them discounts of AUD $8,500 – AUD $17,500 (about $5,600 – $11,600) to shift outgoing Holden models as the brand is retired before the end of 2020. (The Guardian)
Closing its factory in the Philippines. (Honda)
Undertaking a series of changes to the legal entity structure in Japan, hoping to improve efficiency. (Honda)
Eliminated a layer of senior management by combing the 4th and 5th tiers of the organisation. (Honda)
Mazda
Thus far, Mazda's high-tech Skyactiv-X gasoline engine has received a muted reception in the US market with less than 5% of customers choosing the motor, far short of hopes that it would claim 25% of sales. (Nikkei)
Nissan and Mitsubishi (history)
Nissan's new CEO pleaded with shareholders to be given more time to come up with a coherent recovery plan and said he would happily be fired if he fails. (Reuters)

Significance: Perhaps unwittingly, CEO Uchida is channelling Carlos Ghosn, who pledged to resign if his initial turnaround plan failed.

Trialling a short-term leasing scheme called "Switch" in Houston, USA. (Nissan)
Will launch the Opel brand in Japan in 2021. (Opel)
Faurecia reported 2019 full year revenue of €17.8 billion and operating income of €1.3 billion. (Faurecia)
PSA's retail arm plans to recruit 1,300 people in 2020. (PSA)
Moody's cut Renault's debt rating to junk and Standard & Poor's said its rating outlook was negative. (Reuters)
France's finance minister said the government would "play its role as shareholder" to make sure that there weren't any job cuts in France. Looks like FCA's trepidation about government intrusion was unwarranted. (Reuters)
Rumoured to be switching to prismatic batteries from CATL for entry level Chinese-built Model 3s. (Reuters)
Tesla fans tracking Cybertruck reservations reckon that more than 535,000 orders have been taken. (Forbes)
Brazil's government said it wants Tesla to open a factory in the country but so far it hasn't got much further than having a video conference with someone at the US embassy. (Reuters)
Developing batteries for hybrids in collaboration with Toyota Industries. (Toyota)
Other
News about other companies and trends
Economic / Political News
Passenger car registrations in Europe during January of 1,135 million units fell (7.4)% from prior year. (ACEA)
Suppliers
Dealers
Ally Financial is buying credit card and consumer finance firm CardWorks. (Reuters)
Automotive finance start-up MotoRefi raised $8.6 million. (FINSMES)
Ride-Hailing, Car Sharing & Rental (history)
Driverless / Autonomy (history)
A team of researchers working at McAfee undertook strenuous research culminating in an ability to get earlier versions of MobilEye's forward-looking cameras to mis-classify speed signs and (on some models) feed the incorrect result to the car's cruise control speed limiter. Although the methods used, and results achieved, seem impractical in everyday use, they highlight the problems with older sensor sets in the field. Even though MobilEye appear to have upgraded current hardware to resist such sabotage, older models were still vulnerable; even those with Tesla's fabled over the air updates. (Autocar)
Outrider, a firm developing autonomous trucks for shunting trailers in goods yards, raised $53 million. (TechCrunch)
US charging start-up Electriphi raised $3.5 million. (TechCrunch)
Tesla is rumoured to be switching to CATL's prismatic batteries for entry level Chinese-built Model 3s. (Reuters)
Toyota is developing batteries for hybrids in collaboration with Toyota Industries. (Toyota)
Other
Electric scooter rental firm Tier has kept its funding round open and has raised $100 million so far. (Reuters)
Flying taxi developer Volocopter extended its Series C round and now has €87 million. (TechCrunch)
SIGN UP TO GET THE WEEKLY BRIEFING EMAILED TO YOU
Find our archive here.